Out Among the Islands by Sailing Canoe
by Bob Halsey
While camping at Sugar Island, I have made several camping trips with my open sailing canoe. I sail to one of the fifteen campsite islands in the St. Lawrence Islands National Park of Canada.
Typically, after a busy week of sailing races morning and afternoon and maybe taking part in the swim around the Island race, I am ready to relax and do something different. For example, at the end of the first week of the annual encampment in 1989 on Saturday, I packed up the canoe with my tent, food, small stove, sleeping bag, clothes, most of which I put in garbage bags to protect from rain or spray. Then Sunday morning I sailed over to shore and went to early church and breakfast in Gananoque and started (from TIV motel) sailing up the river against the wind. The wind is mostly out of the SW and usually is pretty dependable. The seas were not too much for the loaded canoe and I had plenty of room to be comfortable myself. I was sailing my 18 ft cedar strip I had built the winter before and was quite happy with its performance.
As I was tacking back and forth upwind, I got a good view of many of the Islands- Corn, the Punts, Leek, Huckleberry, Bostwick, Lindsey and others. Some islands are wild, some have beautiful homes. I was planning on going to the last of the Admiralty Islands, a park island named Aubrey island, but I had to be aware that if the wind didn't hold up or if I didn't make the speed I thought I could I might have to stop at a different park island. By mid-afternoon I arrived safely at Aubrey Island. I had a government chart of the waters in a zip-lock bag to help locate myself among the islands.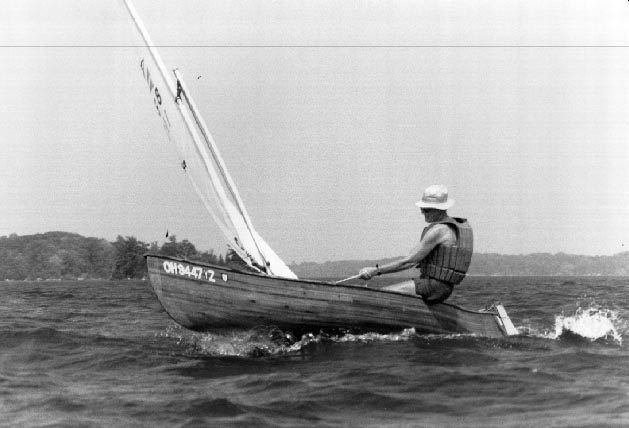 Photo by Chuck Sutherland
The park islands have nice docks built for large sail boats and motor yachts and signs identifying the islands. Most of these docks are really too high for a canoe so I was looking for a sandy shore or bay to land the canoe. Aubry Island, like most of the thousand islands, is all rocky shore, Precambrian rock. I had noticed on the chart a small bay on the North side of the island. I sailed by it. It was just right, with a rocky barrier across the entrance with a small opening big enough for a canoe and not much else.
I sailed in and landed by a small path. About a hundred feet up on the island was a park campsite, a tent site with wood chips, and a grille. I walked to the main dock and self-registered myself. The island was equipped with toilets, a water pump, a picnic shelter and information on the island and trails to walk the island. I got my supper and enjoyed the sunset over Howe Island and went for a swim. After breakfast I loaded up again and this time, I sailed west and then south into the open water west of Grindstone (see map). With a SSW wind, it was a close tack with a good sea running for about 4 miles sailing toward the New York shore past Grindstone Island on the left and Hickory Island on the right. I rounded Papoose Island and Club Point on the left.
Now I had a nice lazy 3 to 4 mile cruise with a following wind NWly along Grindstone with Clayton, N.Y. and the Saint Lawrence Seaway channel with its 600 ft freighters on my right. Those large ships actually make much less wake than a 30 ft power yacht. Clayton is the location of the Thousand Island Museum where they have many old canoes and Thousand Island pleasure and workboats on display.
Leaving the shipping channel, I turned more northerly between Grindstone and Picton Island. This is a rather narrow passage but the wind held favorable for me. Sailed out past Little Gull and Gull Islands on the my right. The wind shifted N'ly so I had to make some tacks. Now on the left on Grindstone Island were the N.Y. state park's Picnic point and Canoe Point where in 1900 the ACA held an encampment and races with the Canadians, with hundreds of people enjoying the outing.
The Gananoque Canoe Club still trains canoe racers but the ACA has not held any joint affairs with them for 20 years. We still get some Canadian decked canoe sailors coming to Sugar Island for our annual encampment sailing races.
So, finally, a few tacks up across the Canadian middle channel and thru some of the Fleet islands, like Axman island and home again to Sugar Island by mid-afternoon. I have made this or similar trips each year now, sometimes stopping at Camelot Island, somtimes caught in the rain. Sometimes it blows hard and other days the winds are light but it always works out as a fun trip. Try it some time.