COASTAL KAYAKING
The Small Craft Nav-Aid, invented by Dr. Charles Sutherland, allows coastal kayakers and sailors to readily and accurately determine course bearings from charts while they are on the water.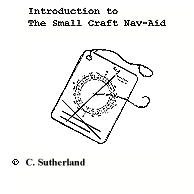 The Small Craft Nav-Aid comes with a twelve page booklet and has permanent markings which can withstand sunlight and water. Novice operators can quickly learn the basics of coastal navigation by studying the accompanying booklet.
It still costs only $8!
To order: send $8 to Dr. C. Sutherland, 2210 Finland Road, Green Lane, PA 18054.