Return to table of contents
Undine IV — 1935 Willetts Canoe
Canoes used for sailing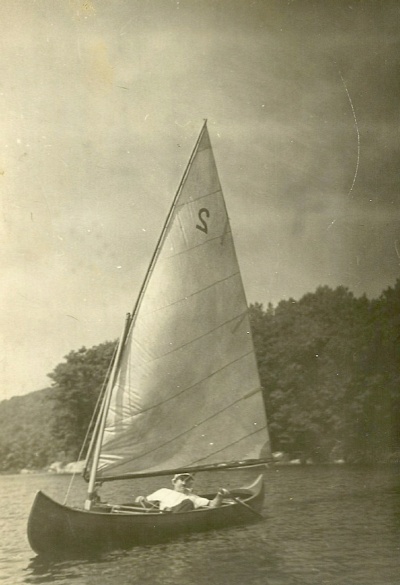 These Canoes were primarily rigged and used in the American Canoe Association for Sailing Racing and Cruising (trips of more than one day with camping, fishing, and even hunting, outfit on board). All these canoes are significant, not only because they are old, but, because they are all National Championship Canoes and, furthermore, represent innovations in the rigging, hull, or both, primarily in the Cruising Class and the ACA Class.
None of these canoes is equipped with any kind of mountings for a rudder or other steering device. All were intended to be steered by balancing the canoe and the use of a hand- held paddle.
See my manuscript on the HISTORY OF THE CRUISING CLASS, which describes these canoes and how they were developed and used.
UNDINE IV—17ft. x 34in., Open style cruising canoe, Used for cruising by sail or paddle, single or double blade, with one or two people in "open canoe" sailing racing, usually with one person. Made by Willetts Brothers, Tacoma, Washington, these canoes were built with full length western cedar strips outside and full cedar planking inside thwartship, as opposed to ribs far apart with planking outside. The tacks were well driven for a smooth outside finish. There were two seats of flat fore and aft spruce slats about 1 in. wide. This stock model canoe came with a mast thwart, designed by Tom Zuk, and a bronze mast step installed. The gunwales and thwarts were all teak. The canoe weighed exactly 80 pounds and cost $80 plus shipping.
This canoe has with it the original sailing rig, made by Thomas S. Zuk, Senior, who won Cruising Class Trophies at Sugar Island, and elsewhere, from 1920 through 1956. He raced this canoe from 1936 through 1956. I raced this canoe from 1936 until winning the National Championship with it in 2002 (68 years). It also has the long narrow single blade that he used for racing, for all the time he sailed the canoe, I believe, and I used this paddle until the end of 2010 and will give it to the Museum. The canoe went to the museum in 2008.
After my father sold his 16x30 decked sailing canoe in1932, we had no canoe in the family. Since I had raced and won paddling races at Sugar Island in 1934, he decided we needed a canoe to properly bring up two sons. He had seen Steve Lysak's 1934 Willetts canoe and he and I went to look at it and measure it. He had first learned about these canoes from a 1932 National Geographic Story about sailing the canoe from Seattle, Washington, to Alaska up the inside passage.
There was available a sailing rig made by Willetts with a removable skeg under the boat in place of lee boards. I saw and sailed one of these rigs at Tacoma in 1982 and unfortunately did not measure it.
This new canoe, which we got in the Summer of 1936, was our family canoe. Although we raced it, I also learned to paddle in it and we trained for paddling racing, used it for fishing and with family and with friends took long cruising camping trips — as it turned out — for 75 years and four generations!
My father then made a new style rig with an arm on the mast on which the boom pivoted without having "mast shadow" from being close to, often touching, the mast on one tack. He published this design, along with drawings of the rigs currently being sailed in 1936. My father was not so good with tools, so I don't know how much of the work he did himself, except I remember working on the leeboard. Dad designed the sail and worked with George Ratsey, whom he knew quite well. Ratsey and Lapthorn, whose loft was on City Island, were famous for making America's Cup winning Yacht sails.
A few of these rigs were made, one of which was Jess Mossburg's, featured in Wooden Canoe Magazine, which, unfortunately, cut out the part about the rig's being designed by Tom Zuk and Adam Wahl. (The original article, sent to me by the author, had this information.) My dad also made, or supervised the making of, the exact same sailing rigging of another Willetts Canoe for Carl Staley which I arranged to be given to the Mystic Seaport Museum. Those are the only canoes I know of with exactly the same rigging. Carl later put a rudder on the canoe which, I am sure, disturbed the balance of the rig so it was difficult to come to windward.
At the same time, Dad reserved a tent platform at the Atlantic Division Camp at Lake Sebago. So in 1936 we started sailing at Lake Sebago. We gathered the seven canoes which had sailing rigs on them and started a series of handicap races with the Willet's, as the fastest canoe, with no handicap. Each sailor sailed all the seven canoes, rotating each weekend. I can remember winning my first sailing race in George Bonnington's eighteen foot White Maine Guide Model. For some reason, with my light weight and skill, that canoe just went well for me! We kept the Willetts at Sebago and developed an increasingly larger fleet through 1940 when I went away to college.
This canoe was raced by Tom Zuk during that period on the Hudson at Von Dolan's at Edgewater, New Jersey, where Hans Waldinger kept his canoe. Only the two of them were active to keep the Cruising Class alive. I remember running their races down there, around 1937 or 1938, and Hans kept winning. In 1941 this canoe was taken to the Island Canoe Club, on City Island, where the decked canoes were, and the races were held there. I came back from the Navy in 1946 and my Dad said, "You race it!" He had won the Lady Bug so I went into the Nationals and got third. Doug Cummings Sr. and Junior, both, were in prime shape. In 1947 I got second. I only got to sail occasionally but Dad sailed the canoe there for years.
In 1955, Tom sold his business and moved to Cambridge, Maryland, where he sailed out of his back yard, and then went to Sugar Island. The two Willetts canoes had the race of the century between the ten year younger Steve Lysak, who had been winning for years, and the 65 year old veteran, Tom Zuk. In the last race, in a heavy blow, Tom won the Cruising Trophy he had first won in 1921! Lysak's canoe is still around in the hands of one of the decked canoe sailors. This was the only time that Lysak was beaten at Sugar Island in 10 years from 1954 to 1963!
The canoe was sailed almost daily in the summer in the Chesapeake Bay and Sugar Island until 1967. It was very worn out, so Dad decided to trash it and took all the fittings off. But I persuaded him to bring it to Colorado and I kept it. I brought it back to New England in 1969.
When I came back to the East from Colorado, I was sailing the Kidder whitewater canoe I had been sailing in Colorado and I paddled it and sailed it at Sugar Island in 1970.
I knew my Dad's Willetts needed considerable rebuilding so I needed a canoe to sail immediately. In June, 1971, I saw a Lincoln, which was being made right up the river from my house and bought an 18 footer which was nice for camping trips but really too big for cruising sailing. Working quickly with information at hand, I ordered a Wilkinson 45 sq. ft. main sail from his sail maker in New Jersey, got a small jib from Lou Whitman and made a rig, including a rudder, so that the canoe cold be sailed in the Cruising class with mainsail and paddle and in C-Class with added jib and rudder. I sailed it in 1971 and 1972.
We had been making rigs for my Lincoln and Sawyer and for Larry Morse. So Larry and a high school friend of he family, Karen Jenkins, was helping me work on the Willetts. Probably some others helped as there were always canoe people working in my basement shop.
On June 2, 1972, I bought some fine Sitka spruce planks from Stew Coffin who lived nearby and was going out of the canoe building business, and on June 3rd started rebuilding the Willetts. The floor, where the sailor steps in and sits, was worn completely through the inside thwartship planking and the canoe had been painted outside with house paint!
So I had to put planking in the bottom, which I did with thin strips of marine plywood glued in with glass and epoxy. And, because of the color, took as much of the paint off as I could, and still leave some wood, and covered it with Dynel and acrylic plastic died white. It had the original rig which I copied for a spare rig. But I sailed it with the original rig except for replacing the leeboard, which I saved. Dad had shortened the leeboard because of the shallow water in Chesapeake Bay in which he was sailing. But it has that original leeboard in the Museum. I had the spare sail made by a sail maker in Marblehead, but was not entirely satisfied with his work I tried some others in Marblehead trying to find a sail maker that understood small boats and was willing to make one new sail at time, not easy!
I finally sailed the Willetts at Sugar Island on August 8, 1972, in probably its first race in about 15 years, for a 3rd place in the Trophy and at Sebago in September for a 5th place out of 12 canoes in the Nationals. Deciding that I was not going to win in that canoe, I bought a Sawyer Canadian from Lou Whitman, who thought it would make a fast sailing canoe. I rigged it first with my spare Willetts rig and raced both canoes at Sebago and Sugar for three years and decided, finally, that I was not going to win with this canoe against the new canoes with high Marconi rigs. However, in 1976, I did win the All Outdoor Trophy for cruising canoes around Sugar Island with the Willetts!
In the 1930's in addition to using the canoe at Lake Sebago, we took trips and sailed in the salt water at City Island, Great South Bay and Long Island Sound. In 1938, when I was 15, my Father let me take my first long, sailing, camping trip. On a Saturday morning in early September, my Dad drove us up to the Mamaroneck Yacht Club and we embarked with complete camp outfit, sailing the Willetts up Long Island Sound. In fair, but brisk weather we sailed up the New York and Connecticut coast to our island destination off of Rowayton, Ct. We set up camp, found some Indian arrow points and net sinkers, cooked our dinner and enjoyed the evening at our camp fire. Sunday morning we struck camp, loaded the canoe and started back. The wind picked up from the southwest as we sailed a close reach down the coast. Finally, late in the afternoon, we were heading into some three or four foot waves. Our port tack was driving us into shore and I really was afraid to tack out away from land where the wind and tide would take us out into the middle of Long Island Sound. As we were being driven close to the Sea Wall at Mamaroneck harbor with the waves pounding high on the rocks, I decided that we could just make it on that tack and sneak into Mamaroneck harbor— and we made it!
Wet and cold, we landed on a small beach amongst the rocks. Relieved to be ashore and not out there in what as now pretty heavy wind and high sea, we walked up to the house and knocked on the door of the house on whose beach we had landed. Fortunately, they were sympathetic, friendly and helpful to the two cold, wet teenage mariners. We called my folks and while we waited for them to come pick us up, we got the canoe and its load up to the driveway ready to load on the car. My mother had been worried and was glad to have her son back home safe and unharmed. My Dad was angry because we weren't skillful enough to finish the trip and he had the extra work of picking us up!
Another cruise we took in 1937 or 1938 in the Willetts was on the Hudson. Again Al Northrup was with me as Dad helped us embark from the Yonkers Canoe Club and we sailed up the Hudson and then paddled up the Croton River past the old Dutch Colonial Manor House (I think it was Stuyvesant; there was no State Park there at that time) to a small cabin where Dad's friend and fellow Club member, artist and canoeist Teddy Cornu had made a 30 foot canoe "mother ship" and taught boys to make some small kayaks for going on trips up and down the Hudson. We had made arrangements to camp there. We set up camp and looked around. We started finding worked stone and then started digging in the garden in front of the Manor House and found a few arrowheads and scrapers and net sinkers. An elderly lady came out of the house and we thought she would have us arrested or at least chase us away. But she asked us what we were doing, invited us into the house and showed us some fine old Mohawk clothing and a carrying bag that had been in the family for generations! She let us keep looking for artifacts and we had an enjoyable day. We hated to leave as we packed the Willetts and sailed off down the Hudson to Yonkers.
After the war, I was guiding in Maine, taking young people on ten day canoe trips, but we did not use the Willetts. I had the old, canvas Morris that I had rebuilt and a new White Maine Guide canoe and some other old beat up canvas canoes which served our tripping purposes.
But when I returned from Colorado and rebuilt the Willetts, we started The Great Cruises — sailing canoe trips of three or four days in various parts of New England and The Adirondacks. Those trips included the first few to Lake Sebago, Maine and Beale Island on the coast of Maine and then Great Cruises such as from Cupsuptic down Mooselicmeguntic and Richardson Lakes, Moosehead Lake, West Grand Lake, Long Lake and Sebago in Maine and, of course Winnepasaukee in New Hampshire. We also sailed on Lake George, Lake Champlain, the Saranac Lakes, Racquet Lake and Blue Mountain Lake in New York. The Willetts was used on many of these trips by Evelyn and me or loaned to others to go with us. Most of this tripping was done with Larry Morse, Phil LeMieux, a fellow named Gordon and Larry Haff. We continued to use the canoe in racing, day trips and camping trips which is what a "cruising canoe" is all about.
So, in 1976 and 1977, I designed, and built a stripper, which I called the Osprey, to win the races at Sebago. And it did! I started sailing the Osprey in 1978 and won the Trophy at Sugar Island in 1979 and started winning at Lake Sebago.
I loaned the Willetts to Sebago for a training boat, but a beginner capsized and twisted and broke out the mast thwart and it remained unused. The sailors there just wanted to win the races and thought their turn would come. They didn't want to train beginners and tried to discourage me from racing.
In 1985, I picked up the British sailors at the airport and entertained them at my house and we took five canoes to Maine, rigged for ACA Class and C class sailing, including the Willetts. I replaced the mast thwart, varnished and cleaned it up. We also took them cruising in Maine. One of the Brits stayed until Labor Day and got a third in the Cruising Class Nationals with the Willetts!
I was winning so much that I usually took off from the races some years as I don't think it is good for a sport to be dominated by one or two people but rather to encourage people by letting them have some success. In 2002, however, I decided, instead, to race antique canoes to compare how they sailed relative to modern canoes. Both the Willetts and Dorsey's 1909 Peterborough had small hoisting and lowering rigs which conformed to the rules as they were in 1909 and 1935. They conformed to the 2000 rules also. The other canoes would not conform to the 1935 rules but to the present rules which permitted high full battened sails. I got second in the Lady Bug with Mystie, the 1909 Peterborough, principally because Don Uebel had an exceptionally fine day! But in September, I won the National Championship with the 1936 Willetts Canoe, which Dad called "Undine", and was the fourth canoe by that name. Afterwards, I realized that the Willetts canoe had never won the Nationals before although it won everything else!
The canoe was not sailed very much after that. After 74 years of service, I put the Willetts with the Osprey and the first Dragonfly in the antique boat Museum in Clayton in 2008.
Return to table of contents