Return to table of contents
Osprey: built 1978
Strip Built Cruising Canoe — ACA Hull No. 12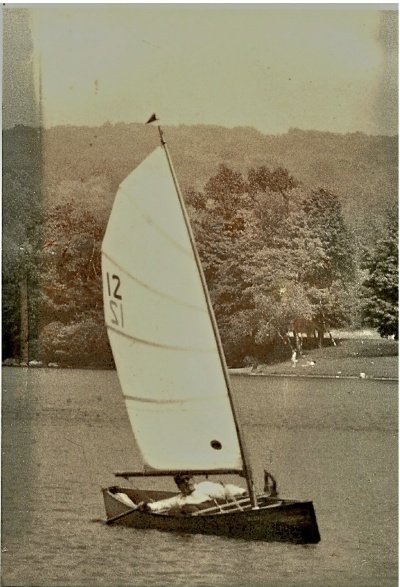 These Canoes were primarily rigged and used in the American Canoe Association for Sailing Racing and Cruising (trips of more than one day with camping, fishing, and even hunting, outfit on board). All these canoes are significant, not only because they are old, but, because they are all National Championship Canoes, and furthermore, represent innovations in the rigging, hull or both, primarily in the Cruising Class and the ACA Class.

None of these canoes is equipped with any kind of mountings for a rudder or other steering device. All were intended to be steered by balancing the canoe and the use of a hand-held paddle.

See my manuscript on the HISTORY OF THE CRUISING CLASS, which describes these canoes and how they were developed and used.

Osprey — 1978 Open Cruising Strip canoe, Sitka spruce with mahogany gunwales, stems and thwarts. 16ft. x 35 inches. Laid up with no metal fasteners (no tack or staple holes), acrylic plastic with 10 oz. glass cloth outside and 6 oz. inside. Original launched weight 56 lbs. The gunwales, decks and thwarts were varnished but the hull never coated with anything but the acrylic resin. Comes with original 14 ft. Sitka spruce mast I made, 50 sq. ft. fully battened cruising sail made by Marblehead Sails to my design drawings, leeboard and thwart and one or two single blades used for cruising sailing. Designed and built by Larry Zuk, it is probably the first canoe ever designed specifically for open canoe sailing racing. Raced and cruised for 35 years, it never needed re-gluing, was only patched outside and is still in good seaworthy condition.

In 1969, I moved from Colorado back east to leave the whitewater and resume my sailing racing. I had rigged a whitewater canoe (the Kidder, which I also gave to the Museum) and had six canoes sailing in Colorado but no racing. I also rigged an 18 ft. Lincoln with a 45 ft. tall battened sail. Also, I bought a Sawyer Canadian, 16 ft. canoe from Lou Whitman which I used for cruising racing with my spare rig for the Willetts. I sold the Lincoln but sailed the Sawyer and rigged it for ACA and C-Class and we used it as a training canoe for many years. When I rebuilt my dad's old Willetts canoe and started racing at Lake Sebago and Sugar Island, I soon realized that the old canoe was not going to be competitive with the new tall rigs (but I finally won the National Championship in 2002 with it), so I decided to design and build a really championship canoe!

I read the only book on building strippers that I could find and, I believe, saw one or two canoes and decided that, in the book, there was too much of the process left out. If I were going to put that much money and time into a canoe, I'd be damned if it were going to have all those little tack or staple holes in it! I tried the soaking in carbonate that was recommended for removing them but it didn't work. So, I fastened each strip to the mold with clamps and rubber bands and glued each to the previous plank. I have never used a metal fastener in the Osprey for any purpose. It is entirely glued and is, without any repairs or re-gluing, in fine shape 35 years later. There is varnish on the gunwales, decks and thwarts but only resin on the inside and outside of the hull. I made a series of slides of two "strippers" being made and gave lectures, using the actual finished canoes on display.

In 1976, I had bought a Sawyer Canadian from Lou Whitman who thought it would make a good open canoe sailing boat. I was rigging it with a copy of my Dad's Willetts rig. In February of 1976 I bought some Sitka spruce and some Mahogany from Condon's, in White Plains, most of which was used for spars but some was used for gunwales and thwarts for the canoes. I cleaned the shop and built a wall and tried to dustproof the shop. I varnished the Willetts gunwales and thwarts, worked on the decked canoe, and designed and ordered some sails. This was all preliminary to building a canoe.

Larry Morse, Phil Lemieux and some others were all working with me to rig their canoes for sailing so, we, together, were making spars, leeboards, mast thwarts and leeboard thwarts. My basement was a canoe factory! One of my notes says, "43 hours shop work last week". But along with this, work started on the Osprey as on April 17, 1976, Larry Morse and I cut long strips of Sitka which were mostly used for spars but some for gunwales and thwarts. And on April 22nd my notes say "cut mold" and "design boat".

The basic design was completely new and had never been done. The canoe was primarily designed for small lakes with light puffy winds. It did very well, actually, in the hard winds and large waves at Sugar Island, but as I grew older, with my weight of less than 145 lbs., it was difficult for me to handle. This meant large sail area, quick starting and less resistance at slow speeds, designed displacement of 215 lbs., and light weight as possible. This was the first time I used the calculus since college days. I describe the design as "slide rule assisted", as opposed to the later computer-assisted designs.

Although the basic design had been made, now this was "lofting" which was making full size drawings for the mold forms. May 14th and June 17th still said "working on mold". Work continued on my Willetts and the Sawyer that I was sailing. There is a box in my notes which says "April 17, 76 first cut on boat planks -- May 14, 76 mold started -- March 24, 77 boat started."

Remember, I was commodore of the ACA in 1975 and 1976 and in 1977, still a member of the council, traveling to meetings, and I was racing the Sawyer and camping- cruising in the Willetts and we were making sailing rigs. But work continued on the new Osprey. I don't have the details at hand for 1977 but the planking had been glued together and the glass put on and the mold disassembled so we could work on the hull. In January 1978, I was working on thwarts and in February and March sanding the inside of the canoe and putting on gunwales and decks. Sanding, plastic and varnish are also mentioned. On May 30th, I was "gluing mast Osprey".

On June 10th, 1978, my notes say, "Launched Canoe Cochituate". This is followed by a couple of weeks of sanding the inside of the canoe, varnishing gunwales, and also finishing spars, leeboard, thwarts, and spray board.

The canoe and rig had been under construction for a long time because I work carefully and we were doing many other activities. As an illustration, let me tell you about the previous two months. On July 1st and 2nd, I raced at Sebago in the Ladybug and was 2nd in one race and 5th overall. On July 3rd we took a local river cruise, on the 8th and 9th, a sailing cruise to Beale Island, Maine, and on the 15th, sailed in the decked canoe Eastern IC Championships at Ram Island in Buzzards Bay. On July 22nd, started packing and spent from the 24th to the 28th at my folk's on Chesapeake Bay with a trip to see Ben Fuller at St. Michaels. Then spent July 29th and 30th at the C-Class Nationals at Oceanport, New Jersey. On the way home, I picked up, with my trailer, a decked canoe at Danny's and another at Lou Whitman's for the fellows in Dayton.

On Monday, July 30th, we had a National Council meeting at Sebago and on August 1st, Evelyn and I flew to Honolulu on our trip to Hawaii and Alaska to visit our Daughter, returning on August 24th. On Saturday, August 26th we raced the Eastern C-Class Championships at Bowman's and I sailed the Osprey with its cruising rig against the bigger sails and rudders, getting 4th out of ten canoes. On September 2nd and 3rd I raced the Osprey in its first cruising races and beat Gordon Miller and Joe Klecka for the first time! I was second to Gordon, beating Klecka in the regatta field of 13 canoes!

It took a long time building from April 17, 1976 to August 25, 1978 -- two years and four months. The Osprey was designed and built to win Cruising Class Sailing races on Lake Sebago and on its 5th day of sailing, it did!

I won the Cruising Trophy at Sugar Island in 1979 and in 1980 won two of the three races but because of the scoring of the time (with extra points for the windward-leeward race) Joe Klecka got first. I was second, and Gordon Miller was third. And I beat those big fellows in a heavy wind! Although the canoe was allowed 50 sq. ft. under the cruising rules, I sailed it, frequently, with the smaller ACA Class Sail, winning the National ACA Class, Tom Zuk Trophy, at Sugar in 1985. In 1982, the ACA Class became a National Class and I had designed it so that the sail could be used on most canoes in the Cruising Class and C- Class as well.

In 1983, I won the combined sailing-paddling race for the ACA's oldest race, The Record, for which the Admiralty Trophy is awarded. But Steve Clark in an illegal decked canoe beat me for the overall series. At age 61, second was not too bad. But the following year, 1984, I won the paddling, sailing and the combined races, to win the ACA's oldest competition on its 100th Anniversary! The Osprey won many races for 15 years from 1978, with both the big cruising sail and the ACA Class Sail, every trophy for the Cruising Class and ACA Class, until 1992 when I designed, built and sailed the Dragonfly.

The Osprey was only used for camping-cruising trips with the ACA Class sail a few times. It has plenty of space with its wide beam and is very good for this purpose but I used the glass Sawyer and the old Willetts more for those trips.

In 2002 I loaned the Osprey to Dave Sherman to sail at Sebago. They thought I loaned it to the Division. So, Tom Uebel, who had not been sailing for several years because of his lung problems, decided to sail it. I won the Lady Bug but he beat me in the Nationals. So the 2003 National Championship was its last race, so far, and I think that it is still the fastest light wind, Cruising Class Canoe. The computer testing that we did substantiated this. At faster speeds or with the small ACA Class sail the Dragonfly is faster. The Dragonfly was computer-assisted design.

Partly to make certain that no one else borrowed it and beat me in a race, I gave the Osprey to the Antique Boat Museum in 2008.
---
Osprey scrapbook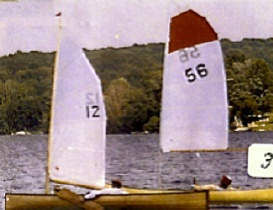 LADY BUG TROPHY — JULY 1978
First Race Larry ever beat
Gordon Miller and Joe Klecka
Series: 1. Miller 2. Zuk 3. Klecka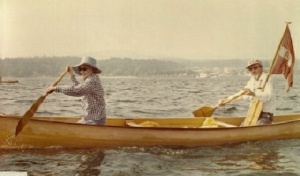 A.C.A. 100th ANNIVERSARY Lake George — 1980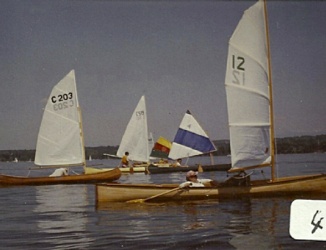 LAKE CHAMPLAIN 1979
Eastern Class C Championship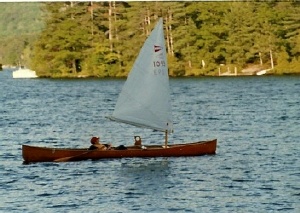 Larry winning the COMBINED Passling and Sailing Race for the ADMIRALTY TROPHY. The ACA's oldest competition on its 100th Aniversary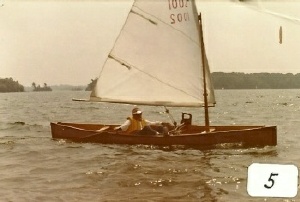 Return to table of contents