Return to table of contents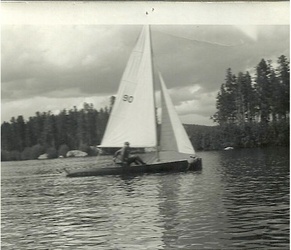 Falcon — 1953
Decked Sailing Canoe: International 10 Sq. M., named "FALCON", ACA No. 90, which is also its IC Number; Lou Whitman design, "Manana II", Cold Molded by Max Anderson of Sweden in 1953, fitted, rigged and sailed by David Fishman. These canoes were designed to the new International Rules agreed to by the U.S. and Great Britain in 1934, which were stated in metric measurements. The original measurements, made in 1953 read 17'3/4" length, 40'3/4" width and 23.8" depth.
The canoe comes with her original rigging and sails, No. 90, and an extra set of Dacron sails from Lou Whitman. She has been slightly altered to swing the centerboard up and down, but with the parts saved to restore it to its original state. It can be sailed but has a leak, probably in the centerboard trunk.
Louis Whitman, famous International Canoe sailor and designer-builder, designed two of these "Manana" canoes. According to my records, Manana No. I, in 1945, was made by Lou Whitman and later destroyed. And Manana II, in 1948, was also destroyed. He then ordered a number of these latter hulls to be made in Sweden and shipped to City Island, New York, and made available to our sailors. According to my records, which were made at the time, not later (attached to this description), there were 5 hulls ordered from Max Anderson in 1953 and 5 in 1954. Dave Fishman's canoe, No. 90, and Frank Hahn's, No. 74, now in the Antique Boat Museum in Clayton, NY, and Jesse Fishman's, No. 92, at Mystic Seaport in Connecticut, were in the 1953 group. At the Island Canoe Club, with the help of Lou Whitman, these canoes were decked, fitted and rigged by the individual sailors but are remarkably similar. With the same wood shell, they could be finished wider or deeper or with different decking or centerboard trunk and mast placement. I was there in 1953, and saw these canoes (even took a picture of Dave's with my real falcon sitting on the bow).
The Fishmans, Whitmans and Zuks were very close both socially and in canoeing at City Island and at Sugar Island in the 20's and 30's, when I was young and hung around the club until 1935, when we got the Willetts and went to Sebago. Also after I was in the Navy from 1946 through 1949. I was at college, in the Navy and in Colorado winning white water races and was only a visitor, racing in the Cruising Class sailing Nationals in 1946 and 1947, occasionally visiting home and going to City Island.
Jesse Fishman was a better sailor but Dave, and this canoe, competed until at least 1956 and, perhaps, raced or just sailed at City Island and Great South Bay after that. With it, Dave won the Crane Trophy in 1949, the Mab in 1950 and the Mermaid in 1952. (See more in Sailing With Champions by Fay Jordaens with Larry Zuk.)
In 1965 I heard that Dave wanted to sell the canoe and wrote him. He was delighted to keep the canoe "in the family" and I bought her for $500.00. Dave crated it in New York and shipped it and on May 29 I bought a trailer for it. On June 1, 1965, while I was at work, the Canoe was delivered in Denver and the truck driver and my 97 pound wife, Evelyn, wrestled the 250 pound crated Canoe on to the trailer in the garage. I came home the proud possessor of my first International Sailing Canoe! (I had sailed on my father's 16x30 decked canoe for the first time in 1927.) I had done most of my winning white water races and was getting a few open canoes rigged. We had six canoes sailing on Cherry Creek Reservoir and I intended to try out the decked canoe there.
Sometimes going with the Denver Sailing Club, I sailed her on lakes like Carter Lake at 6000 feet altitude, Shadow Mountain at 10,000 feet, and Dillon Reservoir, at about 7000 feet. In the cold waters of Colorado, we always used wet suits for sailing, but not much in white water. My 17-year-old daughter, Erica, was racing white water with me in the C-2, and by herself in the kayak, and she liked to sail. We sailed the Falcon side-by-side on the sliding seat and one skippered on starboard tack and went out on the sliding seat and the other skippered on the port tack! This required very close cooperation as the crew handled the sheet lines and centerboard and both had to get off the seat at precisely the same time so that the sliding seat could be moved from side to side or inboard or outboard!
With my tiny wife, Evelyn, it was different. She bravely participated in camping, fishing and running all but the roughest white water, and sailed with me in the open canoe on Cherry Creek Reservoir. Somewhat reluctantly, she agreed to try out this new adventure in canoeing. So, fortified with our wet suits and life jackets, and accompanied by other sailing dinghies, we embarked on the decked canoe and scooted down the lake exhilarated by the speed and growing more confident. Suddenly, a quick, hard puff of wind hit us, my reaction was inadequate and too late, and I yelled, "We are going over!"
This is not an infrequent occurrence on a decked canoe, especially in the mountains with their changeable wind currents. The canoe lies down on its lee beam with the skipper (who was out there to windward on the sliding seat) sitting on top of the windward side of the hull, in this case staring down into the lake where his passenger had disappeared! Instantly, she popped up out of the water and grabbed the shroud close at hand. "Everything is okay", I comforted her, "just hang on!" Standing on the hull, holding the main sheet tight and pulling down on the sliding seat, I brought the boat upright. Evelyn, not too strong with her small arms, could not climb back onto the canoe. It was similar to climbing out of a swimming pool without a ladder. I couldn't go over there and put both of us on the same side of the canoe, so I turned the canoe back over again, leaned over and helped her up to hold onto the windward shroud. I turned the canoe back upright again and there she was, lying across the boat and only had to roll over and sit up!
After about seven knockdowns, we got cold and tired and came in. Some time later, a Club member offered to take her out for a sail in a Lido 14, a small dingy. When they returned, I asked her how she liked the sail, to which she replied, "It was like riding in a baby carriage!"
I raced in a few "one of a kind" regattas, beating everyone except the C-Scows, but sailing in the tricky mountain winds and dunking in the ice cold water really was not the most enjoyable sailing experience. We sailed mostly near Denver on Cherry Creek Reservoir with our group of open canoes. I also used the decked sailing canoe mast, sails, rudder and tiller to rig a catamaran using two Kidder white water canoes, which we sailed in Colorado and even in the Pacific Ocean off the coast of Mexico!
In 1969, I brought the Falcon back to Massachusetts where I sailed her, demonstrating and loaning her to sailors to try to get them to join the sport. In 1977, I raced and Chris Converse sailed in the Falcon for his first race at Ram Island and later became National Champion. Ted Bowman took his first sail on a decked canoe in New Hampshire, becoming a decked canoe sailor in addition to his championship open canoe sailing. As I devoted my time to racing Cruising Class canoes, it was not used much after 1979.
In 1981, I was chosen by the ICF to be the North American Representative on the International Sailing Committee and as such went to meetings in England and Canada, and was a Judge and Measurer at the World Championships in Marion, Massachusetts in Buzzards Bay. I have attached some pictures of that occasion and of the International Committee.
I have attached some pictures of the canoe in 1953, and, later articles on racing in the Rockies and then racing again in New England. Also attached are some early measurements of both Frank Hahn's No. 74 and Dave Fishman's No. 90 made in 1953 when they were first rigged. Also included is the list of decked sailing canoes rigged and registered starting in 1935. In 1934, the first international decked canoe sailing rules were established and my father, Tom Zuk, was elected the first ACA National Measurer (see my manuscript on "The Demise of the 16x30 Sailing Canoe").
My relationship with decked sailing canoes started with rides on my father's 16x30 in 1927 and continued from measuring canoes at the International Challenge Cup series in 1933, to owning, sailing and racing this canoe, "Falcon", to being on the ICF Sailing Committee in the 1980's, to writing Decked Sailing History now in 2011, and who knows where else?
In 2008, I donated the Falcon to the Antique Boat Museum in Clayton, NY.
Return to table of contents