Canoeing in the American Canoe Association

Stories of a Century of Canoeing and Canoes

by Larry Zuk
---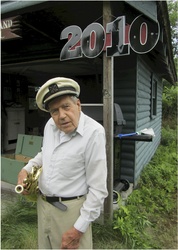 About the author
Larry Zuk has enjoyed the sport of canoeing in many ways starting with camping on Sugar Island with his canoeing family in 1923, and camping with his canoe on many trips from the lakes and coastal islands of Maine to paddling an outrigger in Hawaii and a kayak in Alaska. The family were active canoeists, as Tom Zuk was both a famous paddling and sailing racing champion, and a cruising and camping canoeist along with Grace who was well known for her cooking. After the depression his father got a Willetts canoe for the family, and rigged it with a newly designed racing sailing rig.

Larry won his first two youth races, a single blade and a double blade, at Sugar Island in 1934, a sailing race in 1936 at Lake Sebago and continued winning for 77 years, last racing at Sugar Island in 2011. He won many National Championships, such as National Cruising Sailing and National ACA Class Sailing and National Slalom Championships in one man kayak and both two men, and a man and a woman, in a canoe.

During High School years, and after the Navy in World War II, he instructed in summer camps and guided people on canoe trips in Maine. Starting with teaching a Red Cross Canoeing Class in 1937, he has instructed and coached ever since. He cruised on salt water and fresh by paddle and sail, on lakes and rivers of the East, the roaring rivers of the Rocky Mountains and the rivers and oceans of the West.

Following his fatherís footsteps, he has been an official in the American Canoe Association since 1964, including National Commodore, and has been on the International Slalom and International Sailing Committee of the International Canoe Federation.

Larry designs and builds canoes and kayaks, from wood to modern carbon fiber, which have won championships in white water paddling and in open canoe sailing. He also is best known internationally as the designer of the ACA Canoe Sailing Racing Class, which is already a recognized class in the USA and Finland.

Having donated most of his canoes to the Antique Boat Museum along with the rest of his collection, Larry is writing Canoe History, including the stories of those activities and canoes which are in this book.
Acknowledgments
I would like to thank my Daughter, Erica, for her skillful work with the computer and editing in the preparation of the book; for the encouragement I got from fellow sailors and for those who searched for and contributed pictures; for the opportunity and encouragement from the staff of the Antique Boat Museum; and, especially, for those canoeists who have contributed through the American Canoe Association to help people enjoy canoeing activities.

So I would like to dedicate this booklet to the one who most helped the people I know and especially helped me.

My Father, Thomas S. Zuk
---
Preface
My father, Thomas Zuk, joined the ACA in 1909 and I was born into the ACA in 1923, so now in 2011 we have had over a century of wonderful canoeing. This collection contains our experiences in the Eastern part of the country, touring, paddling racing, sailing racing and designing and making canoes and kayaks, paddles and rigs. We also contributed our time and abilities administratively. We have both been Commodore of the ACA. Dad served on the U.S. Olympic Committee, I was on both he ICF Slalom and Sailing Committees. I am also the Historian of the ACA Sailing Committee. I have been an official in the ACA since 1956. I started running Red Cross Canoe Classes in 1937 and instruction and coaching have been part of all my activities.

I have seven file cabinets of papers dealing with canoeing, and boxes of old magazines. I did not carefully label them and store them neatly. I just put them in old boxes in the basement. I did the same thing with boats paddles and rigs. When I built a new canoe or kayak, I didnít sell the old one because I didnít want to sell someone something that was obsolete and he couldnít win anything with it. I do regret selling one canoe and loaning one canoe which was wrecked. So, I had a dozen historic boats around. I say historic because they were all National Champions or a new design or innovation.

When I knew that I would have to move from my house, I started to look for places to put things. With the help of a long time friend and fellow National Champion canoe sailor, Ed Kattell, I was most fortunate. Ed was on the Acquisition Committee for the Antique Boat Museum in Clayton, NY and introduced me to then Curator, John Summers, and Curator of collections Jessica Phinney. They indicated they would like the 1910 Peterborough, winner of the Open Canoe Sailing Trophy right there at Sugar Island in 1911! Further discussion with them and the new Curator, Dan Miller, resulted in their accepting my whole collection. I was delighted! I started by taking 12 of my canoes and kayaks to them with a Suburban load of magazines and publications.

I was able to get three more canoes for them. I wanted to tell the stories of these notable canoes and kayaks and to write about the background of the canoe activities for which they were designed and used. I started writing and the stories came to life. Among the documents are my own log books and many clippings, pictures and motion pictures. So, what I say is authenticated unless I say that it is approximate or as best as I remember.

The result is this booklet of the history of some kinds of canoeing activity in the Eastern part of the U.S. and Canada and of the boats that are in the Antique Boat Museum in Clayton, NY.

Hope you enjoy them.

---
Table of contents
Stories of canoeing activities
Stories of canoes
---